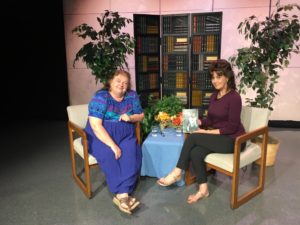 I met Christine at a friends house about two years ago, she is always finding ways to make a difference in peoples lives. She now has a show on Nutmeg TV in Farmington, Connecticut. http://nutmegtv.org/ where anyone can create their own show. It is free and they make it fun.
Nutmeg Public Access Television, Inc. is the leading regional non-profit PEG  Access TV station in CT.serving 80,000 homes.  They offer 24 hour a day programming on three channels and are a two time Telly Award Winner.
Christine received one of my newsletters about the I Choose Program http://www.ctcadv.org/projects-initiatives/ichoose/ after watching the I Choose  video she reached out to me. Christine shared she was excited I agreed to be a guest for her show.
On September 27, 2017 I would say had to be one of the hottest, most humid day of the summer. My concern would normally be, "I hope this goes well" but on this day my thoughts were " Oh! my what will my hair look like by the time I get into the studio," A concern for most stylists, for those who only know me as an author, yes I also am a owner/operator at my salon Casey's Image Consultants. To check out more about the salon, or to add your name for my quarterly newsletter please visit http://caseymorley.com/betrayal-was-engulfing-me/ 
If you would like to watch the fun Christine and I had together please visit  http://nutmegtv.org/video-on-demand/single/?id=35031