Book Reviews
Here's what readers are saying about Crawling Out. Because of the delicate nature of the subject matter, some have asked  to protect their privacy by remaining anonymous
We are all wounded and working at becoming complete.
Your words of wisdom are so true.As a survivor you have so much to teach others and in a sense re-parent them. When you have not been blessed by wise parents, teachers and other authority figures adversity can be what enlightens you. We can all be helped by your wisdom and not have to experience the adversity to become enlightened." ~Bernie Siegel, MD author of 365 Prescriptions for the Souland 101 Exercises for the Soul. www.berniesiegelmd.com.
******************************************************
Difficult subject matter handled in a sensitive and caring manner
Congratulations on writing and publishing your book! The packaging is polished and professional. The front cover image is powerful and drew my attention immediately. I do think your name could be in lighter or brighter font to make it more prominent. The back cover copy does a great job of marketing your book to your audience. You have done a great job blending nonfiction, inspiration, and personal experience. You handle a difficult subject matter in a sensitive and caring manner. The structure and organization of the book is effective. Good job with pacing: each chapter flowed smoothly and you have included just the right amount of details and description. You focus on showing us the story in action and dialogue and only use narration when necessary. I appreciated the many resources you included for your readers. Great job with grammar and proofreading. The formatting of the interior of the book is effective, although the spacing between lines seems a little large: you might be able to save on paper and printing costs by tightening this up a bit. Watch out for long blocks of italics: this can be difficult to read and it dilutes the impact of using italics. You have a great web site: I think you could put the URL in a more prominent place on the book cover.  23rd Annual Writer's Digest Self-Published Book Awards Judge's Commentary
******************************************************
Profoundly moved ….
Hi Casey! Catching up with you about your speaking at our National Day of Prayer service on Tuesday, May 10 at Saint Mary's in Portland (7 p.m.)
Deacon Dana Garry would like the Rivereast (a local area newspaper) and hopefully the Middletown Press to interview you before the day of the
service. We want to publicize the service and your appearance as much as we can. What he would like to do is have you do the interviews in the
morning, starting at 10 a.m. and then have a luncheon with the planning committee after that …. Quite a few of our parishioners have read your book, and have beenprofoundly moved by it. Thank you, and talk to you soon!  Jeanne Samolik
******************************************************
…by her speaking out, her book will help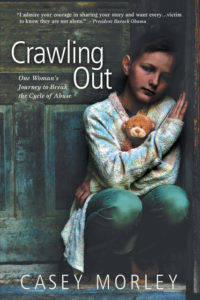 Casey Morley's book,
Crawling Out
, is a wonderful power of example for other young girls and women showing them that it is okay to face the abuse they have suffered and to come to terms with it. With her book, Casey has reached out to millions of women who have experienced cruel abuse when they were young, sharing her nightmare experiences with us. Casey certainly has proven to be an inspiration with her courage to express to others what happened to her in the hopes that, by her speaking out, her book will help. I highly recommend her book…..kudos to Casey for her courage to speak out! Jan Lewis, Professional Memoir Ghost Writer & Host of
Be My Guest
******************************************************
Heart wrenching and inspirational — a combination rarely communicated this well
To know Casey today, as I do, you would never know that she went through such horrific experiences of domestic violence and abuse. She lives the remarkable life of a woman who has been able to persevere and create this record of her journey to help others in that situation deal with their emotions and pain. Casey's "Crawling Out" is an honest, engaging story that is simultaneously heart wrenching and inspirational — a combination rarely communicated this well in today's books on the topic. Brian Judd
******************************************************
Your story was inspirational….
I just happened to stumble upon it at my local library and just knew I had to read this book …. I, married and living with an alcoholic for years, understand what you went through. I felt like I had known you and felt very connected to you while reading your book. I finally got off the roller coaster 6 years ago when I filed for divorce which I should have done years before…. I still continue to fall down at moments but I know i need to move on and be the best mother I can be. I have to say I have done pretty well and we are a strong family of three. Thank you for sharing your story. On a side note – when i read about the apple harvest parade and the fritters I knew we were from the same town and then I realized there are no coincidences. God Bless, 
Amy B
******************************************************
I had no idea of the magnitude of your story
Casey I read your book Crawling Out, and the more I read, the more I wanted to read. As I got deeper and deeper into the reading, a journey started within me that began toevoke all sorts of questions. In The beginning that's all it was, just questions. How could adults treat children the way they were treating you? What made them feel entitled to do so? What was the abuse doing to you? How could you ever recover from it? So many questions, all without answers.
As my reading continued I found myself being a cheer leader for you. I was inspired by your courage and determination in spite of the overwhelming sense of helplessness that surrounded you. Through it all though it was clear that you were extremely smart and resourceful and I believed that you would eventually find a way to break free. When you finally managed to get out and stay with a normal family I was cheering for you. That a way girl! I had no idea of the magnitude of your story. As the story continued and you went from one abusive situation into another, I started to realize the magnitude of the cycle of abuse. I don't know how many times I was screaming out, Just Get Away. But getting away wasn't easy. You were surrounded by people that was so abused themselves they wouldn't have recognized the abuse if it smacked them in the face. But you never gave up, you are a fighter, a real hero and someone that has become an inspiration to us all. By the time I finished the book I understood so much more about abuse and had answers to the questions I started with.
I felt the need to write you because it has become clear to me that crawling out never stops, not for me or for you or anyone else. You need to keep writing, advocating and doing the things you are doing today and always not only for us but for yourself. Thank you for writing this book and God Bless You.  Your friend forever, Robert
******************************************************
I applaud you for finally standing up for yourself
Casey I recently read your book. My sister Anita purchased it at the Apple Harvest Festival. Anita passed away last June and I just received it from her daughter.
Casey, you have such courage and strength and a great belief in God. I'm sure this is how you got thru all that you went thru. I applaud you for finally standing up for yourself.
I couldn't put the book down once I started reading it. I'm so glad you got the courage to go on, so many people would have given up. I'm sure it wasn't easy but you did it with the help of others. It is also nice to know you are trying to help others while you are trying to heal yourself.
I wish you all the best in the years to come, be good to yourself. I grew up with an alcoholic father but, had a wonderful mother to all five of us so I know how difficult life can be growing up in that kind of environment.
I'm also so happy your son turned out so well.
Sincerely,
D.P.
******************************************************
Your story sounds familiar
I just wanted to tell you what a pleasure it was to meet you the other night at the Manor Inn. I must admit, I really feel I met you before and I will figure out where. A lot of your story sounds familiar but because of domestic abuse in the late 1960's with my first husband, I was traumatized and a lot is a blur. How I wished I had kept a journal but some things you just don't want to remember. I am happy to say, this summer Tom and I will be married 45 years and I never looked back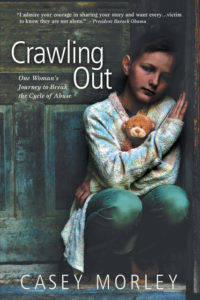 and I sometimes feel it was all a dream or a nightmare. Lol. My friends from high school bring up situations and I don't even believe the things they tell me happened. Thank God my trauma was short lived and I have continued to always improve my life with the help of inspirational books and the Bible. I became Born Again in 1988 and I continue to surround myself with positive friends and family.
I just finished your book and I just had a hard time putting it down. It was very Inspirational and I plan on purchasing more of your books for a few of my friends and family. You are an amazing woman and mother everyone should have. Your son sounds amazing, I just hope the criminal justice world doesn't change him. Working in toxic surroundings may harden him, but I pray he will be able to stay strong. When I get with you again, I have so much to talk to you about, I already consider you a personal friend. I feel like I know so much about you. It would be a pleasure to call you my friend. I Zumba, almost daily, at Cardio Party on Meriden Waterbury Rd. We have a tight knit, positive energy group of girls , many who have mentioned they have taken the toxic people out of our their lives. This constant daily support of these girls has been a blessing to me also. Maybe you would like to join us?? Hope to see you at the Waverly Inn. Can you send me the date and time again since I have misplaced your note. Sending you positive thoughts.  Love and energy, Connie
******************************************************
 Keep up the good work
Casey, just want to let you know i read your book, I could not put it down. It really gave me some perspective, on how you don't have to live your past over and over again in your head, it just makes you a constant victim, i have lived through alcoholic parents, my Dad was abusive, I was the oldest of five so a lot fell on my shoulders my parents were very high functioning so nobody really knew anything was wrong, also my parents had a lot of fellow friends who were drinking as much as they were, but I have "crawled out" from under it, and have been planing to attend Al-anon, to help get more healing from the past, and become a healthier person. thanks for sharing your life story, If I did not
have the love of Jesus Christ I would probably be dead now. thanks, keep up the good work.  ~By Elizabeth
****************************************************
A testament to the resilience of the human spirit
In "Crawling Out", Casey Morley bears her heart and soul to illuminate the issues of physical and emotional abuse.This very difficult and abuse-filled life story, as told by the author Casey Morley, is a testament to the resilience of the human spirit, as described by this very gutsy woman. After enduring decades of abuse, and being repeatedly beaten down, this remarkable woman eventually scratched and crawled her way to rise above the cycle of abuse that we see all too often in our culture today, as well as in others. She has brought this cultural issue to the fore, and has enlightened us as to how to rise above it. I believe that this real-life story will resonate with scores of people who find themselves in the midst of an abusive environment. By bearing her innermost thoughts and fears, Casey Morley has shown us that it's possible to "crawl out" and to break the cycle of abuse. As I read this book, and wrote this review, I was deeply moved by this story, with the knowledge that physical and emotional abuse are very common occurrences which affect hundreds of thousands (perhaps millions) of people daily in the United States alone. Thank you Casey for shedding some light within the darkness.
~ By Thomas C. Brady, PhD
Professor of Biomedical Sciences
Quinnipiac University
****************************************************
Wow, this reminds me so much of what I went through
Reading this book has nudged me into an awareness that I never thought would emerge.  The very first page of your book shocked me.  I thought to myself, "Wow, this reminds me so much of what I went through."  And though I have been VERY fortunate to have never endured sexual or physical abuse, I never realized the extent of verbal abuse I endured from my alcoholic ex-husband and even more shocking to me is that I never realized that I had been emotionally abused by my ex-boyfriend of 8 years.  I was stunned to relate so much to your experience with The Foreman.  At times, I wondered if perhaps it was the same man.  Reading your book has nudged me into the awareness I did not realize I needed in order to get past the anger I still hold onto and the negativity that still affects me daily. You have definitely inspired me!  I am very thankful to have been given the opportunity to read your book and even more thankful to know you as a friend.  I learned so much from you and I want you to know that you have really helped me take a step "sideways".  I'm taking a new, much needed approach and I thank you for that.  I can see how your book will help countless readers in the near future.  And more than that, you will also, by default, help the loved ones of those same readers.  It's really quite an impact you are making.  I am so proud of you!   "Hugs" !

   Coreen
****************************************************
Your story of survival is powerful and inspirational and would undoubtedly be a useful tool for those survivors who are dealing with the trauma of leaving a relationship with an abuser.   Elmer Freeman, MSW Northeaster University Executive Director, Center for Community Health Education Research and Service, Inc.
****************************************************
I hope to one day to  be as brave as you
I finally got through your book. The amount of hope that book gave me was incredible. I hope to one day to  be as brave as you and share my story. I'm so glad I pushed myself to read your book it was so inspiring! Lauren
****************************************************
I have to say I can relate
Hi Casey,  I just finished your book.  I have to say I can relate to your book.  Not your childhood part.  That made me cry.  If ever there was someone to have as a hero that would be you.  I got out of an abusive marriage and a relationship with an alcoholic.  He now is a stalker and the same issues with "foreman" I have with this man.  I have made all the necessary routes to cut him out of my life as
well.  You are an inspiration to many.  Thank You!!!
****************************************************
She believed and trusted that He would provide

Casey Morley's Crawling Out is a personal narrative of one woman's amazing journey of faith — in God… and in herself. As a victim of domestic violence and sexual abuse as a child, she lived the cycle of physical and emotional abuse throughout her life. Here, she chronicles the years that brought her from the imprisonment of her past to a place of release from the grip of that turmoil that stole her childhood and crippled her life as an adult and a single mom.Her book bares the emotional wounds of the Casey I have known for many years. She shares from the depth of her heart the hidden hurts which began to surface over time with counseling, and the gradual healing that occurred as she grew in her spiritual walk. So much of her journey forward seemed to be slowed or postponed by new trials and setbacks. Yet — whether it was the termination of a turbulent long-standing relationship, the untimely death of a loved one, a mother's concern for her child's safety, health issues, or a much-anticipated business venture gone awry — I witnessed her forge ahead bravely, stoically, and prayerfully, filled with a faith that her Lord would meet her at each crossroad. In her spirit, she believed and trusted that He would provide her with strength for the trek, guide her to a place of rest, and lead her to the answers her heart so desperately sought.
Over the years, I have witnessed a profound transformation in this amazing woman who refused to be held hostage by the circumstances of her past. Her perseverance to face her truth and courageously break free of the cycle of abuse that hindered the chances for a normal life for herself and her child confirms that Casey Morley is a woman to be cheered and admired. Her inner strength and determination to be undefeated, and to change a lifetime of negatives into something positive is a true celebration of victory!
With the publishing of her memoirs, Casey reaches out to encourage others to identify, and to "crawl out" from the nightmare of abuse that violates and suffocates. Well done, Casey! God bless. Joanne Tellerico
**************************************************
Casey Morley's gripping memoir is about an always hopeful woman's growth into her own after a grim past in which she felt more like propertythan a gift.
Her writer's voice is open and charming. I felt as if we were chatting over coffee in a cozy kitchen. There's laughter through the tears, along with a spine of grit and gumption, yet you never forget what a lady Casey is.
In some ways, the book isn't what I expected, but yet it's also more. Casey's story shows how old mental programming has us repeating situations, even after we've uprooted and populated our lives with different faces. This book shows how, when we change our minds, we change our lives.  ~By Rhonda L
 **************************************************
Awe-inspiring ….. Definitely a Must-Read

Crawling Out is a woman's courageous battle to fight against domestic violence and abuse, despite all the horrific and painstaking encounters throughout her lifetime. Casey's outpouring love, as a mother is shown through her determination and perseverance to create a happy, healthy, stable and safe life for her son.
Casey's honest writing flowed as if I was sitting next to her having a one-to-one conversation. I was always engaged and intrigued to continue reading, even when saddened by the heart wrenching moments in her life.I admire her strength, endurance, and spirituality, which guided her through her journey of healing.
Knowing Casey over the past few years, I would have never known the pain she endured. Her spiritual, outgoing and positive personality is inspirational and admirable. In support of her mission, I highly recommend reading and sharing this book with friends. Together we can make a difference.~By Bernadette 
**************************************************
Even after a career in criminal and juvenile justice I often found myself perplexed by the behavior of domestic abuse victims. Like so many others I questioned why so many of these individuals, even those with extensive support systems, didn't get out rather than allowing these intolerable situations to continue. Casey Morley's important book, Crawling Out, goes a long way to addressing these questions because it takes us inside the mind and heart of a woman caught in the cycle of abuse. Her book does this by giving us an almost day-to-day account of her journey until she reaches the point of "enough!" Even when she does, it does not result in a sudden dramatic triumph, but rather in the start of years of painstaking work. With each step we share in her small triumphs and in her disheartening setbacks. As the title of the book suggests, Casey, like many abuse victims, does not run or even walk away but must literally crawl out, clawing her way to freedom inch by painstaking inch.Casey Morley's Crawling Out has all the elements of a thriller novel: violence, demonic villains, danger, corrupt officials, and impossible obstacles. The tragedy and the triumph of this story is that it is not fiction. Tragedy in the horrific abuse Morley endured as a child and later as a woman and mother. Triumph in her unstoppable spirit and her unshakable faith. This is a vital book for anyone who suffers from or works with victims of abuse and for everyone intent on ending the violence. I heartily recommend it.~Chuck Miceli, author, Fire Behind Bars and Amanda's Room
**************************************************
Casey's "Crawling Out" is an eye opening, heart wrenching, inspirational, and spiritual journey. It feels as though you are sitting with her sharing stories over a cup of coffee. Knowing Casey and her son for many years has been a blessing. Casey's son is a caring, compassionate, loving man who would do anything to help anyone. Casey, I admire your strength and courage to fight for him. He is extremely lucky to have a wonderful mother who cares so much for him. I admire Casey's positive attitude. She is a women who lives each day to the fullest and appreciates everything she has. She has done it. She has stopped the cycle.
I recommend "Crawling Out" to everyone. It is an important book that provides guidance, affirmation and hope. Domestic violence is a huge issue and Casey's book is a great tool to help those who are affected. Please share this book with a colleague, friend or a family member, together we all can make a difference. ~By Brittany
**************************************************
I Just love a story with a Happy Ending!
I related so well to Casey's experience because I, too, have suffered the long-term devastating effects of loving and living with an alcoholic. This story brought me to a much deeper awareness – I realize I am not alone. I also learned that I am not as far along on my journey to recovery as I thought – but I'm not discouraged! I'm inspired now more than ever to continue that sometimes very painful path to healing. I have enormous respect and gratitude for Casey. I admire her courage, her compassion and her willingness to shed the secrecy and expose her story. I know she is going to inspire and educate the masses. She has already helped so many. Casey teaches us that no one has to walk alone …. and she makes us understand that it's not easy, but it is possible for anyone and everyone to begin their very own journey of crawling out from toxic relationships and painful situations.  ~Karen
**************************************************The abusive nature of alcoholic relationships
Casey, when you asked me to read this book as a favor to give a male perspective, I did not expect that I could apply any of it to myself, as I never considered myself a victim of abuse. What struck me most was how Crawling Out graphically illustrates the abusive nature of alcoholic relationships. Everyone around an alcoholic is affected, especially the children. This book gave me the gentle nudge, that you so often speaks about, to see things in a new light. Awareness is always the first step.  ~Don
 I cried for you
Casey, I got home about an hour after I saw you and got involved, in your book. I have to tell you I was so mad about what you went through that I cried for you. The first ten pages had me hooked. I have been abused by my middle brother and have seen counselors but in the first pages of your book, I have found freedom knowing it was not my fault. I've only told a few people this I can't wait to read more …. My Mom loved you and now I know why. Your book so far is bringing me comfort and understanding. I can feel the pain you went through and may God Bless you and your son I can't wait to get home from work and read myself to sleep. Your book is truly inspirational. Thanks I will keep you posted as I read more. ~Anonymous Male Reader (8/7/14)
**************************************************
Inspired to be a better person
Casey, Thank you for your wonderful book, 'Crawling Out'. I will use my new awareness to come to grips with my own domestic problems, guilt, and isolation, and become a better person. Your book will guide me toward the expert advice, the processes, documentation, needed. I will proceed one step at a time toward better health, peace within myself, and a better life for those that mean the most to me. Thank you Casey, for your dedication, hard work, and perseverance, to bring your book to completion. It will help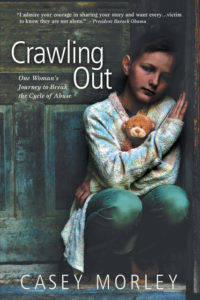 nearly all of us who read and accept the truths you present. I wish you Great Success and Happiness in your life.
~Anonymous Male Reader (7/30/14)
**************************************************
I am guilty…
As you probably guessed, I am guilty of some of the things you wrote about. I came home drunk more times than I should have, and spent money that could have been better spent on my family. I am realizing more of what you are about. You are an Angel sent here to try to help all of us. You will get your well deserved rewards. It is painful to read of your early life. I'm In Shock. How did you get through it all? The Book : On page 240 now in 'Crawling Out' stage. Overall Opinion: Book is priceless for anyone involved in any way, Besides your Spirit, I think your Baby inspired you to stay in 'Survivor' mode instead of your falling into desperation (booze, Pills, drugs) which surely would have killed you. You managed to survive until you could understand what was happening and find enlightened Help. Thank God you found Grace and Dr.Amy. Part 2 of your book is an excellent guide for identifying issues, symptoms, triggers, escapes, etc. There are so many programs and processes, it will take me time to research and understand, but your book will be my Guide. Casey, Thank You for sacrificing so much to devote years of your life to make us Aware of these issues and solutions. Your Friend Dave