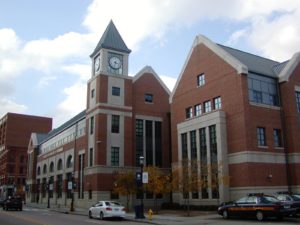 On October 25, 2017 I was sharing some of my story, secrets and statistics of domestic violence. A national epidemic that is going on ALL!!!! around us, including adverse childhood experiences our children are enduring. At the First Congregational Church in Southington  https://www.fccsouthington.org/  My audience was very attentive, laughed, cried, and at times shaking their heads in disbelief of what they were hearing.
Right after I finished speaking, and many headed toward the kitchen for some coffee and, Attorney Scott Garver http://scottgarverlaw.com/good-stuff/ came up to me and asked "Would you consider coming to my Family Law  Class at UCONN  https://waterbury.uconn.edu/ and doing exactly what you just did for this audience?" Of course I said yes I would be honored.
Attorney Scott  picked me up at my salon to help with lugging the books and off to Waterbury we went. Scott gave me a little tour just before his class started and was filled with excitement to share he had a surprise special guest. You see he already shared with me that my book was already being discussed in his class room prior to our conversation at the church. Attorney Scott also shared about ten of his students went on Amazon to buy my book.
That hour and a half was filled with all eyes on me, except for one gentleman who  couldn't make eye contact with me at first. I sensed he was totally uncomfortable with the reality I was sharing. Before the talk  was over he slowly but surely warmed up and turned his attention towards  me. I even managed to surprise him with a photo I shared that evening, which helped him to really be part of the conversation. Another student 'Oh! my sister is reading your book right now, I just texted her, to tell her you are here right in front of me."
So, thank you Attorney Scott Garver and his Family Law students for a very rewarding evening.
Hugs Casey