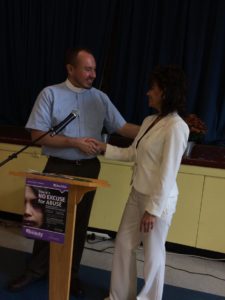 I spend much of my time visiting local churches to connect with some of the people. I feel four or five visits before I am there for a speaking event allows me to have brief conversations with many to help them understand what I am all about.
Child abuse and domestic violence statistics are ALARMING!!! I feel the more I can connect with people and share what I have learned about adverse childhood experience's from my own childhood and from what I learn from my research.
On September 17th I had the privilege to spend some time at First Lutheran Church http://www.firstlutheransouthington.org/ I was deeply touched by the deep attention of the guest, the tears, the confessions and all the hugs. Almost at every event I hear "You just told my story" After hearing these words we immediately are connected and a amazing hug follows.
I always leave a speaking event with a grateful heart, and believe I taught something and made a difference in some ones life. I hope my vulnerability and authentic self will give someone in the room the courage to begin their own journey of Crawling Out.
Hugs
Casey